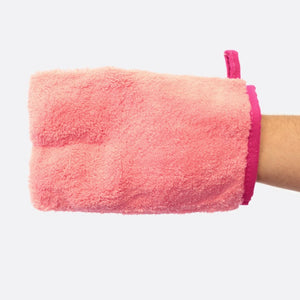 Mr Pink - plush microfibre mitt for interior surfaces - OFFER
Regular price
£5.83
Sale price
£4.17
---
Made from beautifully soft plush material, just like the Soft Touch microfibre drying towel, the Mr Pink mitt cleans delicate interior surfaces safely without scratching - and is even handier than a cloth because it allows you to reach into crevices and awkward areas with ease (and without leaving grease marks from the back of your hand on windscreen glass etc).
See those square corners? That's deliberate, so you can get into the deep and dark corners of your dash where crumbs and dust be lurking. Use a little detailing spray to help the process along.
And if you find some sticky remains of a Werther's Original decomposing in a hard to reach area, spray in some Total Wipe Out APC before you hit it with the mitt. That's what an APC is for... spilled Coke, half-melted boiled sweets and the gloopy residues of fisherman's friends (or friends of other professional seafarers).
Ideal for cleaning all types of plastics, metals, wood and glass. 'Interior hard surfaces' in shorthand. And don't forget, like all our microfibre cloths and mitts, it's fully machine washable (see below for care info).
Care of microfibre mitts. All our microfibres are fully machine washable. Wash them with a non-bio liquid at 30 degrees for light soiling or 40 degrees for heavier contamination - or even better, grab some of our Dodo Juice Furry Liquid, which is made for the job. Powders may not dissolve and get caught in the fibres, so liquids are better... and bio detergents may eat the stitching over time. Avoid the use of fabric conditioners or softeners at all costs as these can make microfibre cloths water repellent. If this happens, dry clean the cloth with your tuxedo and duvet next time you are in town, or soak it in a strong APC solution overnight (our Total Wipe Out concentrate is ideal for this). Finally, fluffiness can be restored by tumble drying on a low heat. High heat will damage the fibres. Some clumping/entangling of fibres is natural as the microfibre becomes older - consign old microfibres that are past their best to secondary duties like wheel cleaning.