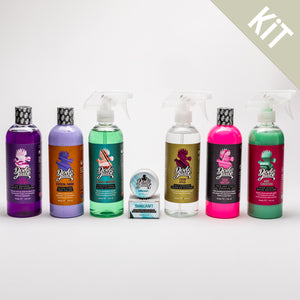 Gear for a Year - starter bundle, 12 months of detailing supplies, makes a perfect gift (7 items) - £12 saving HS 3405300000
Regular price
Sale price
£57.50
---
You may want this kit as a treat for yourself.
You may want this as a present for a loved one.
But what we know you definitely want is about 12 months of detailing supplies for an average sized car.
Gear for a Year.
So this is what we're giving you:
Firstly, enough shampoo to last a year of fortnightly washing. At 1:800, this bottle of Born to be Mild 500ml gives you 400 litres of wash solution. That's about 16 litres a fortnight - as much as most people will put in a large detailing bucket.
Next up, polish. You only need to polish your car every time you re-wax it, which with the hybrid wax in this kit will be just 2-3 times a year. This 500ml bottle of Critical Finish ultra-fine cut polish (suitable for any type of paintwork) will be enough for polishing a car up to six times in our estimation. So that's plenty.
Wax-wise, this 30ml jar of Shinecraft hybrid wax will cover 3-4 average sized cars. We reckon on a recoating interval of 4-6 months, so the law of maths says you're covered here. You may even have enough wax to take you into next year.
Now you'll also need some detailing spray - Mint Condition 500ml. Whether 500ml will last a whole year does depend on how you use it, but we'd suggest a simple touch up after each wash. Used carefully, you may be able to eke out this 500ml bottle.
Interior? Let's look after that with 500ml of Cabin Krug interior cleaning spray. As long as nothing disastrous happens to the inside of the car, that's more than you should ever need.
Finally, we've included some dressing for the tyres and exterior trim (Dark Matter 500ml) and some glass cleaner (Clearly Menthol 500ml). Again, used sparingly after a wash, there should be enough to look after you for 12 months.
Let's check those areas we've covered off:
WASH - Born to be Mild 500ml shampoo
POLISH - Critical Finish 500ml ultra-fine polish
PROTECTION - Shinecraft hybrid wax 30ml
GLASS - Clearly Menthol 500ml glass cleaner
TRIM/TYRES - Dark Matter 500ml trim and tyre dressing
INTERIOR - Cabin Krug 500ml interior cleaning spray
MAINTENANCE - Mint Condition 500ml detailing spray

(£81 list price of items = £12 saving)