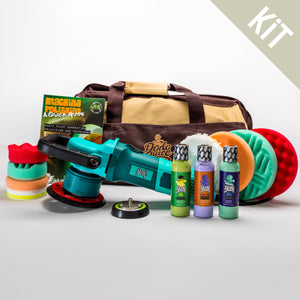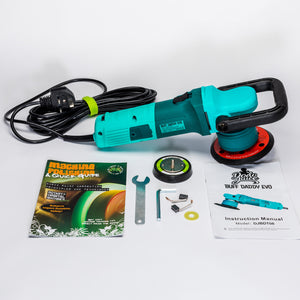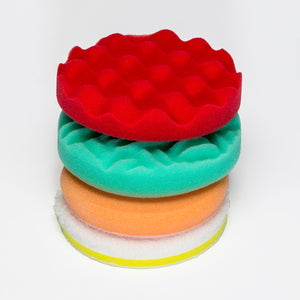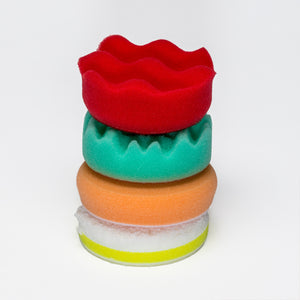 Buff Daddy Evo DAS-8 machine polishing bundle - complete kit with 8x pads and 3x polishes - £25 saving HS 8465930000
Regular price
Sale price
£162.50
---
Removing swirls by hand can be hard work, time-consuming and can often lead to inconsistent results. The answer is a machine polisher – and the most user-friendly of all are the orbital machines (often called 'Dual Action' or 'DA' polishers). Because the polishing head travels in an orbit, there is less chance of the paint being inadvertently damaged.
Clutched machines, like our Buff Daddy Evo (an upgraded version of our classic Buff Daddy DAS-6) are safer still because they have a clutched polishing head, meaning that the pad will stop rotating if too much pressure is applied for too low a power input. Ultimately, this means the pad stops rather than carries on grinding through your paint, like a rotary machine or DA with a driven orbit.
So if you are new or inexperienced, the Buff Daddy Evo DAS-8 is ideal. And if you're a pro you'll like it, too. Its gentle cut is perfect for refinish soft finishes without causing machine marks/holograms - and if you need more cut, simply reach for a heavier cut compound like Dodo Juice Depth Charge and a Fibre Scyther microfibre cutting pad and you can tackle even hard German clearcoats.
This kit also gives you 3x grades of polish and 4x types of pad to get you going and provide a full 'turn key' machine polishing set-up.
FREE Dodo Juice Machine Polishing Tutorial guide included.
Kit includes:
*Buff Daddy Evo DAS-8 short throw 8mm orbital polisher (UK spec) including 5 inch and 3 inch backing plates for regular and 'spot' machine polishing work
*Critical Finish 100ml ultra-fine cut polish

*Lime Prime 100ml fine cut polish
*Depth Charge 100ml heavier cut polish
*Peak Finish 150mm waffle foam finishing pad (low cut)
*Peak Finish 80mm waffle foam finishing SPOT pad (low cut)
*Shark Fin 150mm fin-cut foam polishing pad (medium cut)
*Shark Fin 75mm fin-cut foam polishing SPOT pad (medium cut)
*Slim Reaper 135mm extra-slim compounding foam (heavier cut)
*Slim Reaper 90mm extra-slim compounding SPOT pad (heavier cut)
*Fibre Scyther 135mm microfibre medium/heavy cut pad (heavier cut, runs cooler than foam, potentially increasing the lifespan of your pads and even your machine itself during extended polishing sessions)
*Fibre Scyther 80mm microfibre medium/heavy cut SPOT pad
*Larger Dodo Juice branded detailing bag (a size up from the old DAS-6 one)
All the pads above are suitable for the large and small backing plates that come with the Buff Daddy Evo and have a traditional 'hook and loop' velcro backing.
Machine spec and technical info:

The Buff Daddy Evo is - as the name suggests - an evolution of the legendary DAS-6 that we've been selling for years. In fact, it's really an evolution of the DAS-6 Pro due to its higher 900W output and higher torque figures. Here are the main differences:
* Larger orbit of 8mm rather than 6mm for wider polishing area, lower potential panel temps, more safety margin for beginners
* Powerful 900W motor compared to old DAS-6 (550W) for more torque at lower speeds; so you can run the machine normally at speed 3 rather than speed 5, with more power in hand when required...
* TWO backing plates; a 125mm (5") backing plate and a smaller 75mm (3") backing plate for spot pads - plus the usual D-Handle etc.
* 6m long cable - longer than rival machines and the old DAS-6, so no need to keep tripping over extension leads
* New ergonomic casing design with improved button/controls positioning - main switch now on the top/front rather than the side; speed control on the top/rear (much more visible and easy to adjust)
* Quick-change brush ports on side casing, plus the usual pare carbon brush set also included
Please note: machine polishing can cause irreversible damage to paint and should only be undertaken once confident that results can be achieved safely. Always research machine polishing thoroughly, test on practice panels or inconspicuous areas initially and start with light cut products and processes when working on 'live' paint until you achieve competence.