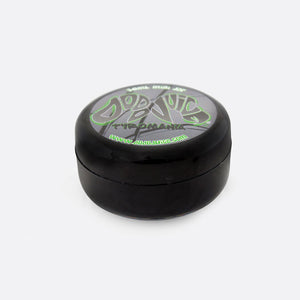 Tyromania 30ml - natural finish tyre and trim wax - suits faded black trim
Regular price
Sale price
£5.00
---
Tyromania is our black wax for tyres and external trim (plastic, rubber etc.). We made it originally as a natural look tyre dressing that doesn't rub off after it's been applied, but we then discovered it's nothing short of amazing on external trim. Yes, it's that good we almost shut down the label printer mid-reel to rename it Trim-mania. But that doesn't sound very good, so we didn't.
On tyres, Tyromania is a carnauba-based wax with a little orange oil, that turns grey-brown tyres back to a natural charcoal colour with a matt finish. It's not a shiny 'wet look' finish, so if that's what you want running down your tyres, up your bodywork and onto the bottom of your cream chinos, please jog on (our Supernatural Glaze may be what you're after as that is far shinier). It is however, dry to the touch after buffing and quite satisfying to apply. It will last 4-6 weeks on tyres, but we recommend recoating every wash for the best finish (rubber simply absorbs too much dirt to look good for weeks on end).
On trim, Tyromania is arguably even more of a star performer. If your black trim is faded or discoloured with polish residue, this black wax will re-blacken it with its blackness. It will also help protect UV damaged trim from further degradation and it lasts a lot longer than on tyres. You should see 2-4 months or even longer out of a single application. The finish on trim has more of a satin sheen.
This 30ml jar is generally enough to sort at least one set of tyres, or all the black plastic trim on an average-sized car. Or treat it as a sample size and see if you want to buy the big jar.
Apply Tyromania with a foam applicator, sponge offcut or rag - it will go black though, so don't use anything that you want to keep looking pristine.
Note that we recommend the use of nitrile gloves when applying Tyromania or you'll end up with 'chimney sweep's fingernails' due to the black residue. It does wash off, but you'll need a lot of soap and water and a decent nailbrush. No worse than shoe polish, to be honest, but certainly not a good look if you're a hand model for signet rings on QVC.