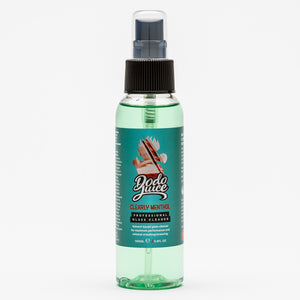 Clearly Menthol 100ml - professional quality glass/window cleaner - glovebox/sample size HS 3405909000
Regular price
Sale price
£5.00
Tax included.
---
Glass cleaning sprays are normally detergent or vinegar based - and cheap as the chips you could probably use them on.
But industrial strength glass cleaners are jam-packed with alcohol for a smear-free finish. That's what the pros use. So that's what we made.
The result is Clearly Menthol – a minty mouthwash coloured glass spray that cleans glass and leaves a sparkling, residue-free finish.
It must work... It 'topped the test scores' in the Auto Express glass cleaner test in the year of launch and got a Commendation. Then a year or so later it earned a 5 star rating and nabbed the Auto Express Best Glass Cleaner Award. Boom shanka!
Since then, it's always been one of their favourites and a massive seller on Amazon as well.
Use it inside your car and outside, on standard or tinted windows (it's abrasive free).
Use it inside your house for cleaning mirrors and windows. In fact, use it anywhere there's something glass-like. 
Available in 100ml and 500ml ready to go sprays and even a large 5 litre refill.
Finally, our hints and tips for best application results... firstly use a dedicated waffle-weave glass cloth like our Mint Merkin - these have more 'bite' and absorbency than piled microfibre. And secondly, whilst Clearly Menthol is water based it tends to give its best smear-free performance on dry surfaces. So maybe dry your windows after you've washed your car, before using the glass cleaner (it also helps keep the solvents at full strength).
This 100ml pocket/sample sized glass cleaner is suitable for keeping in your glovebox to clean your car's windows, for the bathroom to clean the bathroom mirror or for keeping on your person at all times to clean your glasses, your smartphone screen or the telescopic sight of that Barrett Light 50 sniper rifle that no-one knows you have.
*Auto Express Commended Glass Cleaner*
*Auto Express Best Glass Cleaner 2015*
---